Mr Sultan Ahmed B.A, B.L and His 1960 Election Manifesto
By Aman Ullah
Mr. Sultan Ahmed, s/o Maulana Akram Udddin, was born in 1901 at Thay Chaung Village (Balukhali, Malavi Para) of Maungdaw north, Arakan, Burma. He was matriculated in 1919 from Government Muslim High School of Chittagong and graduated in 1924, with B.A degree, from University of Calcutta. In 1929, he obtained his B.L degree from the Rangoon University.
Since 1930, after enrolling as Higher Grade Pleader, he practiced law in both Rangoon and Akyab. He was appointed as Assistant Township Officer (ATO) in 1942 at Maungdaw there he served till 1946. Later he joined the Judicial Department and became First Class Magistrate under the British Government.
He was the president of Jamiatul Ulema of Maungdaw North since 1946 and took part in the Constituent Assembly election of 1947 with Jamiatul Ulema ticket. He was elected and became a member of the Constituent Assembly. He continued in his office, representing the Maungdaw North constituency till Burmese independence and took the oath of allegiance to the Union of Burma on the 4th January 1948 as member of the new parliament of the Union of Burma. He also participated in 1952 in the Parliamentary Election of 1952 1nd 1956 and elected in both elections as members of the Chamber of Deputies. He served as a Parliamentary Secretary in the Ministry of Minorities, Ministry of Relief and Resettlement, and Ministry of Social and Religious Affairs. His wife Daw Aye Nyunt (a) Zohora Begam,was also elected as a Member of Parliament in 1952 from Maungdaw South Constituency. In 1960 Parliamentary Election, he took part with the ticket of Stable AFPFL led by U Ba Swe and U Kyaw Nyein but failed to be elected. In 1958 the AFPFL split into two factions. One led by U Nu supported by Thakin Tin and M.A Rachid, called Clean AFPFL. The second, led by U Ba Swe and U Kyaw Nyein, called itself Stable AFPFL.
He was one of the five Members of Commission for Arakan, which was appointed on 9 September 1948 by the government. On 9 September 1948 the Government appointed a Regional Autonomy Commission with Chief Justice, Sir U Ba U, as a Chairman. Of 28 members, 6 were Kareans, 6 were Mona, 5 Arakanese, 7 Burmans, and 4 came from other frontier peoples. The commission was empowered to inquire in to the question of autonomy for Kareans, Mons, and Arakanese. Mr. Sultan Ahmed was one of the 28 members of that Commission representing Arakanese. He was also one of the 7 members Inquiry Commission of Arakan, which was appointed by the President of Union of Burma on 29 July 1949.
He was an advocate of the High Court of Union of Burma in Rangoon where he practiced law from 1949 to 1959. He took refuge in Bangladesh during 1978 Rohingya exodus in to Chittagong and struggled as the President of the Rohingya Refugee Welfare organization; died i his extreme old age on 2nd March 1981 in Chittagong while in exile in Chittagong.
The following is his Manifesto for 1960 Parliamentary Election: –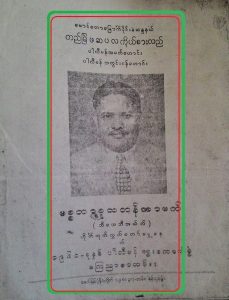 ---